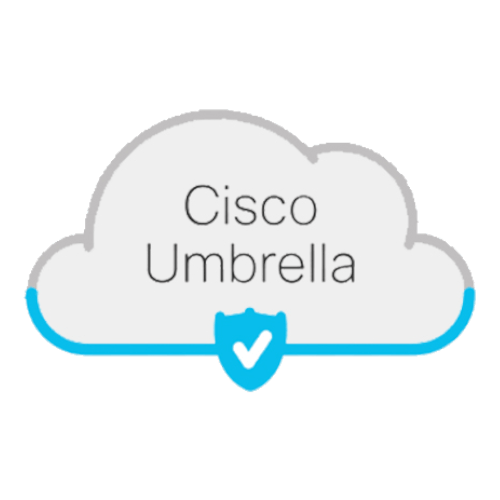 Flexible, fast, and effective cloud-delivered security
Cisco Umbrella offers flexible, cloud-delivered security when and how you need it. It combines multiple security functions into one solution, so you can extend protection to devices, remote users, and distributed locations anywhere. Umbrella is the easiest way to effectively protect your users everywhere in minutes.
Incredibly simple deployment
Requires no hardware to install or software to maintain, and takes minutes — not months — to deploy enterprise-wide.
Reliable infrastructure
Umbrella also delivers superior speed by peering with over 900 of the world's top internet service provides.
Unmatched intelligence
Powered by insight from Cisco Talos, one of the world's largest commercial threat teams, to block malicious activity.
Prerequisites
Before you begin:
Sign up for an Cisco Umbrella account.
Set up a Connection, which is a source of users. Connections can be databases, social identity providers, or enterprise identity providers, and can be shared among different applications. You may set up more than one connection for use with SSO integrations.
Configure Auth0 SSO Integration
Enter a name for your SSO Integration, configure the following settings, and click Save.
| Setting | Description |
| --- | --- |
| Callback URL | URL to which the user is redirected after login like https://login.umbrella.com/sso |
Configure integration with Cisco Umbrella
To configure the integration with Cisco Umbrella, follow the steps below with the data shown in the Tutorial view (which will appear when you save the initial configuration settings).
Log in to Cisco Umbrella.
Click on User Name > Preferences
Scroll and click on Single Sign On and click on Configure.
Click on Enable
Upload the Identity Provider Metadata file into the Identity Provider Metadata field.
Enter email into the Attribute Statements field.
Customize log in url if needed.
Press Save to save the settings.
For more details, you can follow Cisco Umbrella docs.
Enable connections
Choose the connections to use with your SSO integration. Users in enabled connections will be allowed to log in to Cisco Umbrella. By default, all configured connections are enabled.
Select the Connections view
Toggle the sliders next to connection names to enable or disable them.